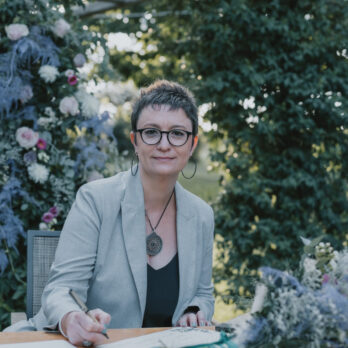 About me
I am a positive person with a strong desire to get to know others and their stories. I have always tried to understand the reasons behind the choices of the people in front of me and empathy has helped me a lot in this. I am a chatterbox, I am aware of that, but I know I am able to listen to others and ask the right questions to allow everyone to tell their story. These characteristics of mine naturally led me to do this job. For me, celebrating a ceremony is an important moment in the life of those who have called me to this role, but it is also an important moment for me. I try to enter other people's lives with great respect, listen carefully to their stories and make a serious commitment to find the right words to use during the ceremony. Nothing must be left to chance, because there are no rehearsals for the ceremony. This means foreseeing every eventuality, imagining what may happen or what may be needed. And that is why professionalism is one of the important components of this job. I collaborate with professionals who work for the ceremony. With wedding planners, venues' managers, photographers and musicians when it comes to weddings or parties in general; with funeral directors when it comes to funerals. These are important moments that professionals can make special and relieve their clients of all kinds of worries.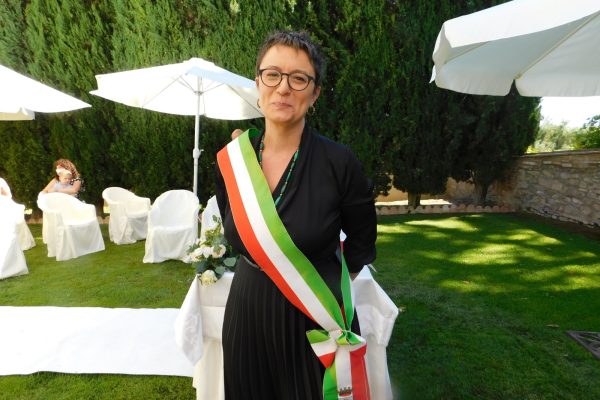 MY STORY AS A CELEBRANT

I became interested in secular ceremonies when I thought about what I wanted for myself. I do not belong to any religion, but I have always believed that moments of passage should be shared with the important people in one's life. It was this that prompted me to attend the Uaar course with the teacher Richard Brown in 2014. From that moment on, my commitment expanded and I started to collaborate with the Uaar on the growth of the project related to secular ceremonies, which then became Cerimonieuniche. I have worked alongside the teachers in this project Richard Brown, Clarissa Botsford and Rosanna Lavagna; with them I followed the students, helping and supporting them in this job which is still little known in Italy. Through this continuous discussion with my colleagues, we felt the need to create an association of professional celebrants. Clarissa, Richard and I founded Federcelebranti, in March 2021, which today brings together dozens of professionals in the sector. But the greatest achievement was the publication of the UNI/PdR 118:2021 Reference Practice in September 2021, which standardises the work of celebrants. This very important step was designed especially for people who turn to celebrants at a crucial time in their lives and their right to find a certified professional. With Richard and Clarissa, I had the honour of sitting at UNI's table as an expert and this greatly enriched my personal baggage. It was also a great satisfaction, because although this work is very widespread in Europe, we were the first to regulate this activity.

WHERE DO I WORK AS A CELEBRANT?

I work mainly in Abruzzo, Molise, Umbria, Marche and the Province of Foggia. But I have no problems moving to other areas of Italy.

WHAT LANGUAGES DO I WORK WITH?

I celebrate in Italian, English, German, French and Spanish.

WHAT IF THERE WERE GUESTS WHO SPEAK TWO DIFFERENT LANGUAGES?

No problem: the ceremony can be done in two languages. We can prepare a bilingual wedding booklet, so that all guests can follow the ceremony. Don't underestimate this detail. It is very important that all guests feel involved during the ceremony. If they are there it is because they represent a fundamental part of your life and they will want to understand what happens. Then we will study the solution to have them follow the ceremony.
What do I do? What don't I do?
What do I do as a celebrant? A small guide to help you understand what my job is and what services I offer.

What do I do?
I write the ceremony to the clients' specifications. I personalise it, try to include all the important details and values in the most respectful way for everyone and then I celebrate it. I help you understand what you can include in the ceremony and how you can make it beautiful and shareable. I help you choose the readings or the music to be included in the ceremony. I help you find the locations where you can celebrate your dream wedding, whether civil or symbolic.

What don't I do?
I am not a wedding planner or funeral director. I do not set up the space or provide the materials for the ceremony. I do not arrange the place of the ceremony, I do not provide the embellishment material, nor the material for the rites. Above all, I do not wear the tricolour sash if it is a symbolic ceremony. The use of the sash is regulated and may only be used in the case of marriage or civil partnership.